by Patrick Williams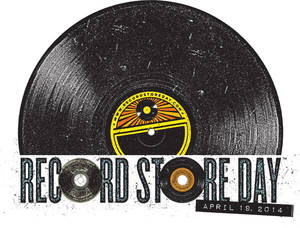 April may be known as the cruelest month, but not if you are a fan of vinyl records. Sales and production of new vinyl LPs have experienced a staggering rise in the the last decade or so. One expression of this renewed popularity comes around on the third Saturday of every April. It's the annual event most record collectors know of simply as RSD.
Record Store Day, now in its seventh year (April 19th this year), is a celebration of local, independent, brick-and-mortar record stores, more specifically, those that carry vinyl records. With the sheer amount of reissues and special RSD-exclusive vinyl released each April, Record Store Day is also a major driver in the production of vinyl records these days. The list of RSD releases this year numbers over 400. Many of these releases are very limited– in some cases only 500 or 1,000 copies are distributed among the hundreds of participating stores. This means that the crowds form early outside stores (even with the risk of being soaked in an April shower), eager to for the chance to get in and get what they can. It feels a lot like waiting in line for concert tickets (though that's one relic of the pre-Internet world I can happily do without).
As a long-time record collector, I'm both amazed by the enthusiasm that RSD brings out in the vinyl community, and frustrated by the increase in competition for the releases that in earlier years, I could have just waltzed in and picked up. But mostly, I'm just pleased RSD's success provides a tactile, social, and public way that fans can support the networks of artists, labels, pressing plants, distributors, and independent stores that supply them. I don't feel a lot of those connections in the realm of digitally-distributed music.
Record stores, for me, have always been outposts– places to find music, to learn about local events, to get a sense of a new city. Record Store Day is one of many days each year I spend supporting them. But if you have not experienced it yet, you may be surprised to see the vinyl-fever-fueled mob at your sleepy local store on April 19. Even David Lynch is getting into the action this year. Just remember to bring an umbrella.