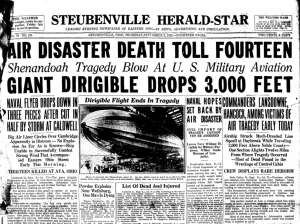 By Patrick Williams
Disaster and tragedy were all-too-common facets of everyday life in early 20th century America. One need only browse the front page of any regional newspaper of the era to encounter tales of lives torn away in struggles with the technologies being developed in the name of making life easier.
The newspapers had no monopoly on these bleak stories, however. Disaster and death were often featured as subjects of the some of the most popular recordings of the day. The Columbia Recordings advertisement seen below (from the June 4, 1926 Anson Western Enterprise) features nearly a dozen recordings of this nature: "The Sinking of the Titanic," "The Death of Floyd Collins," The Fatal Wedding," "The Dying Girl's Message," "The Wreck of the 1256," "The Freight Wreck at Altoona," & so on, & so on…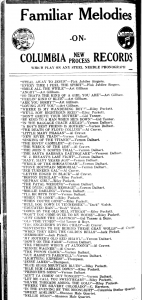 You'll notice Vernon Dalhart as one of the names among the performers of these songs. One of the top recording artists of the era, Dalhart made his fair share of recordings with chilling themes. In fact, his "The Wreck of the Old 97," was a best selling single and put country music on the map (a peek at Dalhart's Victor discography reveals this was not his only morbid hit).
The Belfer Archive Digital Cylinder Connection has many recordings of Dalhart's songs, disaster-themed and otherwise (you can listen to many of them here), but my favorite is "The Wreck of the Shenandoah," which memorializes the US Naval dirigible's untimely demise.
The song describes the events of September 3rd, 1925, (reported in the Stubenville Herald-Star above) when the USS Shenandoah crashed in Ava, Ohio, as the ship's Commander, Zachary Lansdowne, attempted to avert a line squall. It details the Shenandoah's historic and fateful journey, and focuses on the Commander and the other 13 crewmembers lost that day. The song fails to mention, however, the miraculous survival of 29 additional crew. Watch the brief documentary below (which features Dalhart's tune) for more details about Lansdowne, the Shenandoah and its demise.