Sound Beat: Access Audio
Sound Beat's foray into long-form audio projects including audiobooks, interviews, narrated journals, as well as documentary-style storytelling highlighting the experiences of iconic Syracuse University community members.
Sound Beat: Access Audio projects have involved students, faculty, staff and administration from the School of Education, the iSchool, the College of Visual and Performing Arts, Newhouse, WAER, University Counsel and SU Press.
Inclusion and the student experience are at the forefront of AA's mission. Through an exciting partnership with the Taishoff Center for Inclusive Higher Education, InclusiveU students form an integral part of the team in all aspects of production. In addition, all students work with Libraries staff, using the vast array of resources available to students to hone research, writing and editing skills.
If you have an idea for a Sound Beat: Access Audio project, or you'd like to support the collaborative and inclusive mission, contact:
Jim O'Connor, Producer of Sound Beat at 315.443.4867 or jsoconno@syr.edu or Bianca Caiella Breed, Assistant Director for Development, Advancement at 315.443.5530 or bcaiella@syr.edu
---
Recent Productions

These are the words interviewees used to describe Dr. Sarah "Sally" Short in this audio documentary featuring colleagues, friends and some of her 55,000 former students.

Warren Kimble left Syracuse University in 1957, eventually settling in the place that would become his home for the next five decades plus: Brandon, Vermont.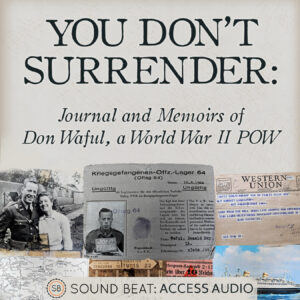 This two-hour production provides remarkable insight into the psyche of a captive soldier set against the backdrop of one of the most compelling events of the 20th century.